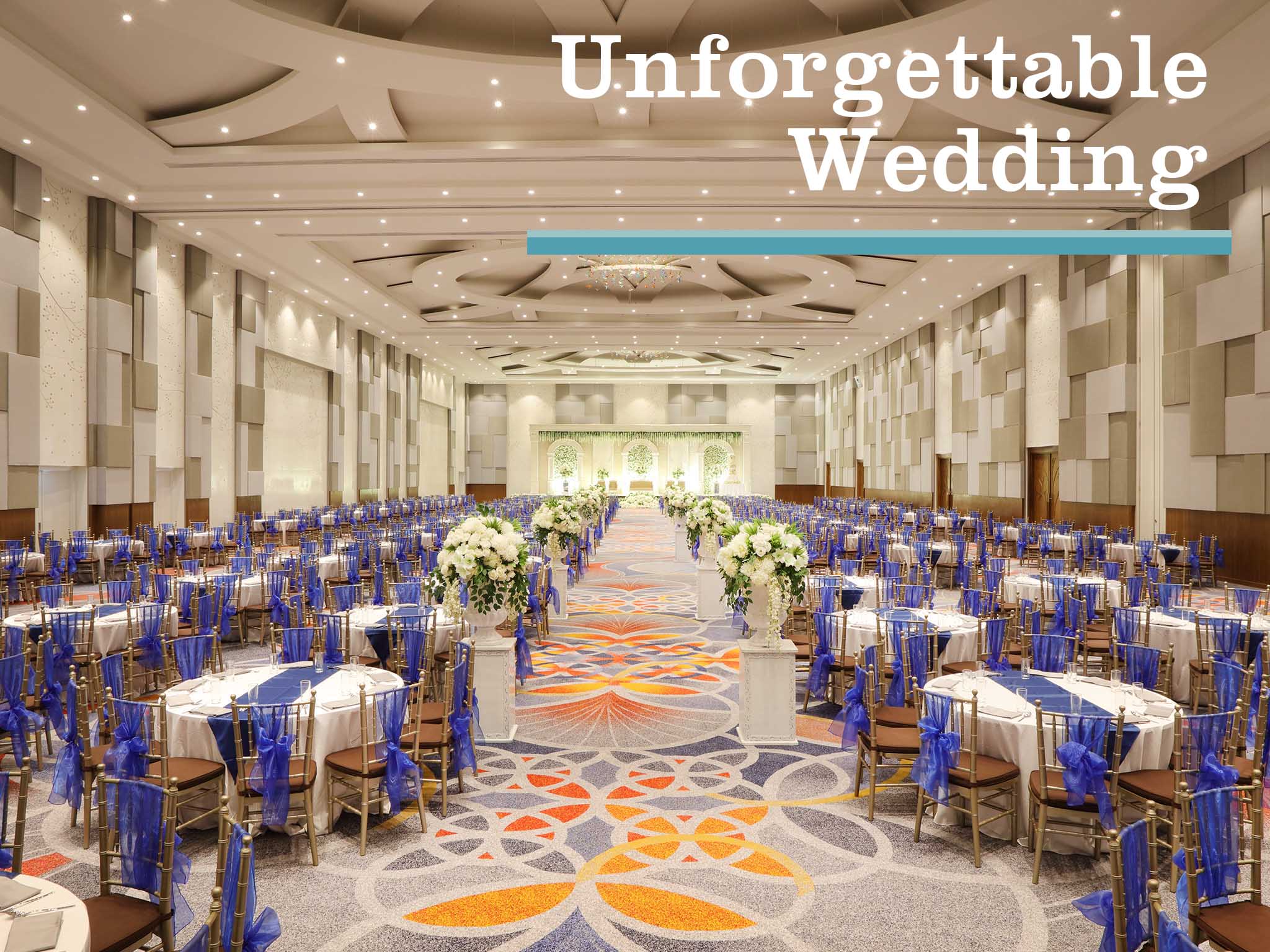 Unforgettable Wedding
Celebrating your love with family and friends is a truly magical moment. At Four Points by Sheraton Manado we turn magical moments into lifelong memories.
For further enquiries, please contact our Event Specialist, we are more than delighted to assist you anytime.
Wedding Package and Banquet Menu
Instagram: @WeddingFourPointsManado
Contact:
Telephone:

Fourlen +62 811 431 6304
Angel +62 811 431 6309
Hotel +62 431 880 3999
Email Us: Sales & Marketing Team
Online Inquiry: Request For Proposal
Grand Ballroom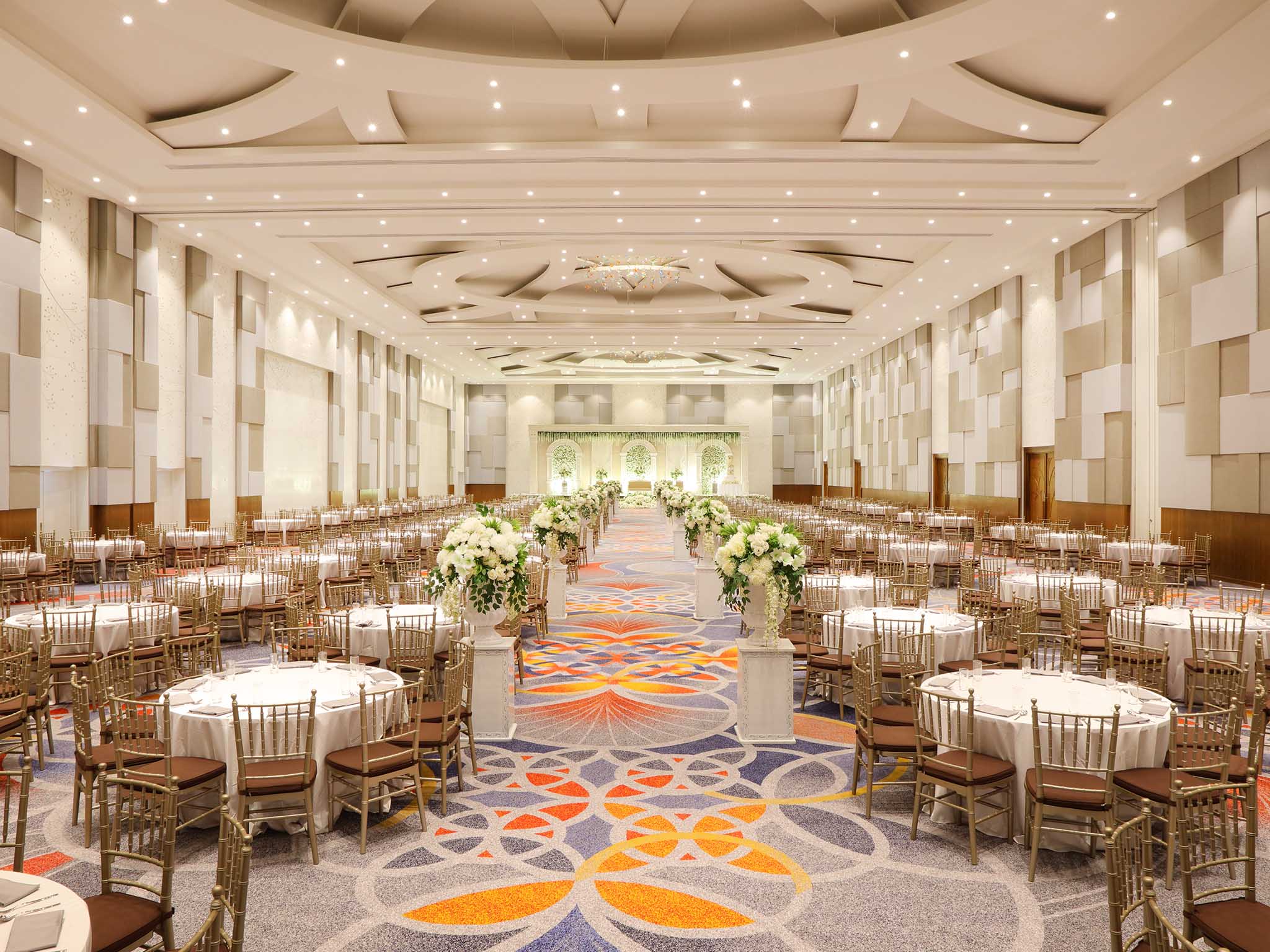 Grand Ballroom provides a spacious space for gathering of hundreds of people to cocktail receptions for thousands of people. Featuring a futuristic design and color-changing LED on the ceiling, this meeting room is divisible into two smaller ballrooms for more intimate occasion.
Features:
LCD Screen 4x6 metres
Partition Wall
Smoking & Non-Smoking Area
Digital Signage
Standard Sound System
Free Wi-Fi
High Ceiling & Pillar-less Space
Set-Ups: Area 1658sqm
Banquet 1017pax
Theatre 1800pax
Classroom 916pax
U-Shape 582pax
Reception 1800pax
Wedding Packages
Celebrate Your Way
Make your special day an unforgettable one at Four Points by Sheraton Manado – the perfect venue for your idyllic wedding. Whether you dream of an intimate union with family and close friends, or a grand affair for hundreds, with our unique pillar-less Grand Ballroom and our seven function rooms to choose from, your dreams comes true.
We take care of the details, leaving you to relax and enjoy your most memorable day.
Click on each packages to see banquet menus and benefits
Rp 39.800.000,- net
Rp 199.000,- net/pax min. 200pax
Rp 125.000.000,- net
Rp 250.000,- net/pax min. 500pax
Rp 150.000.000,- net
Rp 300.000,- net/pax min. 500pax
Rp 175.000.000,- net
Rp 350.000,- net/pax min. 500pax
Rp 200.000.000,- net
Rp 400.000,- net/pax min. 500pax
Frequently Asked Questions
There's minimum amount of persons to every packages, what if there are more or less invitees to the wedding? Our professional Event Specialists can arrange a wedding package to meet your preferences
May I bring in my own decor or singer? Yes, you can bring in your own decor or singer. Nonetheless, it would not reduce the amount of price nor the benefits that are included to the wedding package. So do to all other inclusions.
Who should I contact for my event arrangements? A dedicated Event Specialist will be assigned to take care of all your wedding arrangements, while our experienced banquet team will look after your wedding event.
What about parking lot at Four Points by Sheraton Manado? We share parking lot with Manado Town Square which is capacious in range. You will not have to worry of running out of parking lot for your attending-invitees.
Can we tailor-make our menu? The list of menu can be customized to your preferences on at least 2 weeks prior to your event, without having to have food-testing.
How long is the duration of using the function room? Maximum of 6-hours using, and will be charged accordingly for overtime.
SPG Benefit
SPG Benefit
SPG Benefit
See where SPG can take you. Earn, redeem, and enjoy the benefits of the SPG life
Terms & Conditions
© 2018 Marriott International, Inc.